Yay, later this morning (as it's now 3:13 am),
Hal Silverman
is coming to visit me! He is a friend of mine who've I known now for 7 years. I can't believe it has been that long! Hal is a great guy and we met at the Piccolo Spoleto Craft show, where I was exhibiting my work. Hal came into my booth, told me that he was a potter and we were off talking and talking and talking! As he described his work, I knew that I had just read an article of his in Clay Times magazine, about how to make these awesome candle lamps. His work is very precise, and so sculptural and you just want to hold one in your hands. Here is a picture of his, but check out his
website
as well...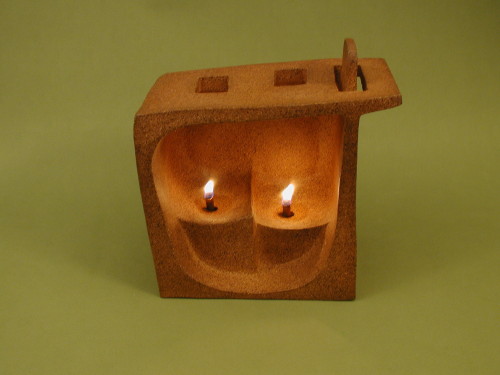 This is just one of his simpler forms, but they have such a wonderful tactile quality to them. So once I figured out who this guy was, we definitely had plenty to talk about. He ended up buying one of my pieces, and later on, I bought one of his! His piece has a place of honor in my bedroom, now... So Hal lives up north, and is traveling down with his lovely wife to see some family in Florida. They are kind enough to make a pit stop in Charleston and make the trek out to Folly Beach to see me! I'm excited - it's so fun to talk to another clay person, and we have other things in common, like birding. Hal and Irene (his wife), went to Costa Rica in January and hopefully they will bring me some pictures as some eye candy for me.
In other news, I took the munchkin to a birthday party yesterday, and boy,did we have a blast. They gave out those "ring lollipops" to the kids and Marley got all kinds of sticky in the car on the way home. Check out that look of love for her lollipop that she's holding out to me. I don't think I'll ever get all the stickiness off of that car seat...